Looking for stunning and new outdoor furniture? The best place to buy outdoor furniture in Dubai is [Swin Furniture]
Add Function and Style to your Garden and Room with Stunning Outdoor furniture. Get Stylish Furniture here at SWIN FURNITURE, That Is Sturdy and Affordable.
Best place to buy outdoor furniture Dubai. The shopping capital of the world is Dubai. It lives up to its status as the best shopping destination in the world. It has become an instant draw for bargain hunters and shoppers, both locally and abroad, thanks to the term "tax-free."
Shop for Garden Furniture & Decor online on Swin Furniture. Get our latest offers and browse among a large selection of Home & Garden in Dubai
Swin Furniture Dragon Mart Dubai is the perfect choice if you are hunting for the best outdoor and indoor furniture in Dubai. You can find All kinds of outdoor and indoor furniture here, additionally, the price won't break the bank.
All are available here, from chairs to modular sofas, comfortable chairs, and luxurious sofas. You don't have to scurry around looking for outdoor furniture. Cushions, mattresses, curtains, and other types of upholstery can all be found under one roof.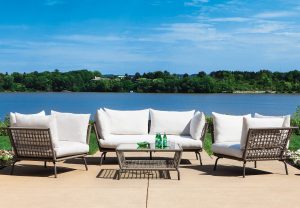 In addition to furniture for indoors and outdoors, this is a great place to go. It has a wide selection of outdoor and indoor furniture. You will have an outdoor couch, a gazebo, rattan chairs, and a rattan dining table.
First Touch Furniture Dubai, Lanny outdoor Furniture, Orient Center Trading, Fzco Future Star Furniture, Swin Furniture, and Creative Living Dubai are a few among the wide array of shops catering to your furniture needs.
We already have a home delivery system in operation. What you have to do now is pick the one and pay for it. The majority of work will be taken care of automatically.
If you ever need outdoor and indoor furniture including gazebos, swings, umbrellas, awnings, sunbed, sun loungers, chairs, and tables in Dubai, Swin Furniture Dragon Mart should be your first stop, there is a theatre and a food court for you to chill after all of your furniture shopping.