The Perfect Patio Outdoor Dining Sets
Are you looking for the perfect outdoor Dining sets for your patio? Look no further than Swin Outdoor Furniture! Swin offers a wide range of stylish and durable options. From modern and sleek designs to classic and timeless styles, you'll be sure to find the one for you. Whether you're looking to entertain or just relax, Swin Outdoor Furniture has the solution for you.
Let's take a look at the frequently asked questions before purchasing the outdoor dining sets
What material is best for outdoor dining sets?
When it comes to finding the best patio dining sets for the outdoors, there are a few things to consider. First, you'll need to decide between rattan, aluminum, or another type of outdoor dining set.
A Rattan dining set is usually made from woven rattan material and is great for outdoor spaces. It is resistant to weather damage.
An Aluminum dining set is lightweight and durable, making it a great choice for busy outdoor areas.
Other materials include wood and plastic, and each has its own advantages.
How about the size and budget for dining sets?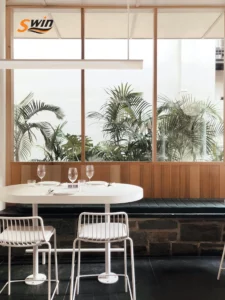 The next thing to consider is the size. Make sure to choose a set that will comfortably seat your family and friends. It's also important to choose a set that is easy to maintain. You definitely want to make cleaning up after meals much easier. Lastly, make sure to choose a set that fits your budget, as some may be more expensive than others. With all these factors in mind, you'll be sure to find the perfect one for your home.
Look for a classic yet modern one, then the  Rattan dining set from Swin furniture might be perfect for you. This outdoor dining set is both stylish and practical and comes with four chairs and one table. If you're looking for something lightweight and contemporary, then an Aluminum dining set may be the best outdoor dining sets for you. The Almanett Aluminum dining set from Swin furniture is a great option as it is light and easy to move around, and looks great in any outdoor space.
Which kind is more Durable and weather-resistant?
Outdoor dining sets are a great way to enjoy meals and relaxation outdoors.  It's important to make sure that the pieces you choose are durable and weather-resistant. One of the best materials for outdoor furniture is PVC, which is strong and can withstand even the harshest conditions.
A PVC-material dining set is ideal for outdoor use because it is both water-resistant and easy to clean. Aluminum sets are also a great option when it comes to outdoor furniture. They are lightweight and sturdy, making them a perfect choice for patios and other outdoor spaces. Durable aluminum dining sets are highly resistant to rust and corrosion, so they can last for years with proper care and maintenance. Furthermore, aluminum dining sets are often stylish and come in a variety of colors and designs, making them the perfect way to enhance any patio or deck.
Take a look at our products
Outdoor Dining Sets and Patio Furniture from Swin Furniture
Swin is a great place to find stylish and durable outdoor dining sets and patio furniture for your patio. With an extensive selection of stylish and weather-resistant pieces, you can find the perfect setting for your outdoor space. Swin's outdoor dining sets are designed to stand up to the elements, from wind, rain, snow, and UV rays. Whether you're looking for an elegant conversation set or a more modern, minimalistic design, Swin has something to suit your style.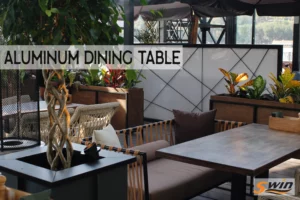 When you buy outdoor furniture online in UAE from Swin, you can be sure that you're getting top-quality furniture that will last for years to come.
Swin's patio furniture is made from premium materials such as teak, rattan, wicker, and aluminum which are both durable and stylish.
Their garden furniture is also designed to stand up to the harsh UAE climate with its hot summers and cooler winters.
You can also choose from a range of colors and styles to match your existing outdoor decor.
Whether you're looking for a modern or traditional look for your patio, Swin's outdoor dining sets and patio furniture have something for everyone. Swin offer affordable and stylish options for those who don't want to break the bank but still want their outdoor space to look its best. With their wide selection of styles, materials, and colors, you can easily find the ones to fit your needs.
With Swin Outdoor Furniture, you can afford to have an outdoor dining set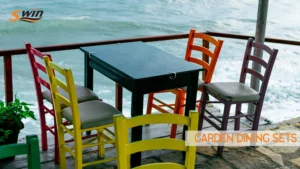 Looking for a great way to enjoy the outdoors without breaking the bank?  Affordable outdoor dining sets are a great way to add style and comfort to your patio while still saving you money. Whether you're looking for patio furniture, garden furniture, or just something to enjoy the outdoors with, Swin has you covered. With a wide selection of durable and stylish outdoor dining sets, you can create the perfect outdoor oasis without spending a fortune.
When it comes to outdoor dining sets, Swin is the place to go. Their selection of outdoor dining sets is both stylish and affordable, and they have a variety of options to choose from. Plus, you can easily buy outdoor furniture online in UAE from their website or their store. So why wait? Start creating your perfect outdoor oasis today with affordable outdoor dining sets from Swin!