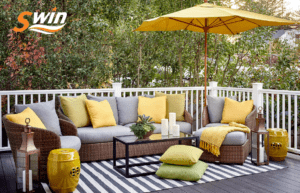 Dubai umbrellas comes in a variety of different shapes and sizes, each with its own set of advantages. Some of the most popular types of umbrellas are listed below. It's worth reading this guide before you buy your next umbrella!
Finding the perfect umbrella shape for your garden
It's really important to find out what kind of umbrella is right for you. If you're thinking about getting some patio furniture and using an umbrella as part of your outdoor set-up. It's really important to consider how much space you'll have, and how big or small you want your overall project to be.
If you're just adding an umbrellas to one chair or table. For example, then a mini-umbrella might be all that's needed; but if you need something larger (or bigger than 10 feet) then it might be time to get in touch with professionals who can handle projects that are beyond your skill level.
The style and size of your umbrella will be directly related to your outdoor furniture set-up. If you don't have enough room for a large patio Dubai umbrella. Then you can get by with something small enough to fit in one seat or one table. But if you want something larger—like ten feet across or more—then it might be best to work with professionals who have access to heavy duty equipment that can handle even the largest projects.
What color should I choose for my garden furniture?
While it can be easy to just grab a bright umbrella for your outdoor furniture set, you might consider choosing something with more subtle colors.
A silver or gold umbrella won't clash with other outdoor furniture in your backyard, which can make it look nicer and help it fit into its environment better. Additionally, these kinds of umbrellas tend to be more resistant to fading from UV rays than their brightly colored counterparts, which means they'll last longer and save you money in upkeep costs.
After all, who wants to buy new patio furniture after only a few months? Finally, picking an umbrella that blends into its surroundings can prevent unwanted attention and unnecessary damage—no one wants their new patio table destroyed by vandals or thieves!
 Different color options for Garden Umbrella
Why buy an Dubai umbrellas from Swin Furniture?
Some questions you may have…
What umbrella size do I need?
Do I want an aluminum or timber frame?
What color is best for me?
How often will I use it and where am I going to store it ?
What maintenance is required to keep my umbrella in pristine condition?
In short, how do I choose an umbrella that's right for me?  Below we'll answer these questions and many more to ensure that when you buy from Swin Furniture you have all your bases covered. The professional team at Swin Furniture are ready to help if you need advice or guidance so please contact us if you require any further information or assistance.
Where to use your umbrella?
If you're planning to use your outdoor furniture in Dubai during meals, there are two things you should consider: Can you keep it clean? Are there pests or ants that will make a mess out of your tables and chairs?
Here are few places where to use umbrellas
Outside to shade you from harmful UV rays.
To keep you dry and cool during those hot sunny days.
When dining outside with friends or family.
All of these, depending on your mood!
When using outdoor furniture in Dubai, always think about where you'll be and how much sun there will be. Are you planning to spend most time inside? If so, it might not make sense to use an umbrella. Will you just have drinks outside?
The 3 Different Types of Garden Furniture
Each type of outdoor aluminum furniture has its own pros and cons. So it's important to consider what you want from your outdoor furniture before purchasing.
No one kind will be best for everyone—we've created a little cheat sheet to make sure you get what you want out of your garden aluminum furniture. If in doubt, contact Swin Furniture and we can recommend umbrellas that suits you!
The Different Types of Garden Furniture Canopy Designs
There are several canopy designs for outdoor furniture. It can be hard to know which ones work best for you and your garden. No worries though, here are some great umbrella design options for your garden. We'll give you information about their history and what type of things they're best used for.
Outdoor furniture canopy designs often come in large rectangle shapes.
These can be either freestanding or fixed to a wall, roof or fence post. You'll find that many people choose freestanding canopies because they offer more flexibility.
They are easy to move around as needed, and you aren't forced to have them sticking out from somewhere for stability.
You'll want to measure your garden before you purchase an outdoor furniture canopy. It's important that you know how large it will be so that you can plan where you are going to put it.
Top 5 Tips For Choosing Your Dubai Umbrellas
Remember to choose an umbrella which compliments your outdoor space.
There's no right or wrong answer here; there are pros and cons for both so make sure you factor that into your decision when choosing your garden furniture. Also, if you do opt for readymade garden furniture Dubai umbrellas then don't forget to add a layer of high quality paint or varnish to prolong its life. If you have any more questions about outdoor furniture in Dubai then feel free to contact us anytime!