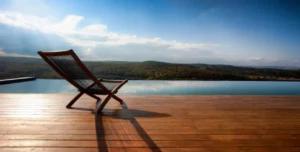 Sun loungers are a perfect addition to your outdoor spaces like patios, balconies, and gardens. What are lounge chairs?
You might have seen this furniture along the beach and poolside! Lounge chairs allow a person to stretch themselves in a reclined position. These chairs are often adjustable with various features, styles, and functions.
It is a blend of luxury and comfort available in different styles and budgets.
Here at Swin Furniture, we offer sun loungers made of various materials of standard quality.
In UAE, you know winters are the only possible sunny time you can enjoy. You can soak up every bit of winter sunshine on completely comfortable sun loungers. Treat yourself this winter, and bring a staycation to your outdoors.
Your Sun Loungers can transform your Outdoors!
Want something to set your outdoor space with minimum maintenance? Sun loungers can make your place suitable for relaxation. Try Aluminum Sun loungers for more affordable and long-lasting loungers that will never rust!
The heavy aluminum and polyester fabric is hard-wearing and has elasticity, making it more durable.
There are different types of loungers, Fixed or Folding, S-Shaped, Flat loungers.
Let's find out the sun lounger materials available in the market:
Resin, Aluminum, Wooden, Rattan, Plastic
Buying Sun loungers can be confusing, but don't worry! Always keep these features to find a suitable fit for your outdoors.
Always choose a style you like to make sure to match your sun lounger to your existing outdoor furniture. Use cushions to increase comfort and give style to your space!
There are foldable sun loungers that are easily stored and yet functional. Outdoor chaise lounge chairs are iconic summer furniture for sunbathing while sitting upright or lying down. The common materials used are aluminum frames and surfaces with polyester fabrics or vinyl straps.
During winters in Dubai, you can never miss out on the usage of sun loungers as you spend more time outdoors!
You can use lightweight loungers when you camp along beaches of the country.
Never miss out on chances of being outdoor relaxing! There are various elegant and unique sun loungers available in the market!
Enjoy lounging out in your backyard or on the beach with these lounge chairs. You can fold neatly for easy transport and storage.
Shop now from Swin Furniture!